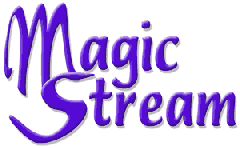 ---
Sprituality And Healing:
Articles:

The Call! -- By Regina Garson.
Lately it seems that things spiritual and ministerial have been on the brain and popping up here and there in various ways. Others have mentioned ministry related issues as well. Spiritual outreach very similar to what I have been doing with Magic Stream all these years. The mission has been open for a very long time...

Another Chance -- By Regina Garson.
In an instant, life as I knew it changed, and I was hanging, as if in some limbo thinking, I'm not ready. I got stuff to do. I'm not finished yet. It is seldom our choice as to when we leave this life. It could have very well been my turn, but a series of miracles brought me through that day.

Creating A Meaningful Life -- By Wendy Betterini
Sometimes we forget how fleeting life is. If you knew you were going to die tomorrow, what would you do today?

Little Things Make Life Meaningful -- By Michael Holmboe Meyer.

---

Poetry:

Barber Shop Singing -- By Mark Phillips.

Closeness Of The Spiritual -- By Norma Holt.

Sacred Solitude -- By Regina Garson.

Thoughts By Heather Garson.

Winter Solstice -- By William J. Wilson.

---

"Practical prayer
is harder on the soles of your shoes
than on the knees of your trousers."
-- Austin O'Malley --

---

Online Resources:

Access: New Age -- All Things--Esoteric and Spiritual, Occult and Metaphysical.

Awakenings -- Tools for psychological and spiritual growth.

Belief System Selector -- Do your beliefs and your religion mesh? An exploration of world religions as they relate to your beliefs.

Christian Recovery Connection -- Dedicated to Twelve Step recovery and support groups within the Church.

Christian Recovery Resources on the Internet -- From About: an extensive listing of online Christian Recovery Resources.

Cliff Pickover's Internet Encyclopedia of the Bible -- Extensive listing of online articles, references and resources.

Codependency Recovery, Inner Child Healing, Joyous Spirituality -- Joy to you and me.

Encyclopedia Mythica -- An online encyclopedia on mythology, folklore, legends, and more.

Enlightened Spirituality.org

Interlude Homepage -- A place to renew the spirit brought to you by the Cybermonks.

Jews in Recovery -- JACS (Jewish Alcoholics, Chemically Dependent Persons and Significant Others).

The Joseph Campbell Foundation -- A nonprofit organization, founded to preserve, protect, and perpetuate Campbell's pioneering work by collecting and cataloging his books, papers, and recorded lectures

Myths and Legends -- On and offline bibliographic resources organized by region and language group.

The Mystica -- An on-line encyclopedia of the occult, mysticism, magic, paranormal and more...

Spirit and Sky -- The definitive spiritual directory.

World Transformations -- A cornucopia of ideas, resources, connections, information, inspiration and surprises, all aimed at growing, creating or discovering a world that works better for all of us.

Yoga Central -- Online yoga class.

Your Spiritual Temperament -- A survey. This is not so much about any specific religion and/or its practice as it is about how religion and spirituality fit in your life, from a personality perspective. As in, what is your religious and spiritual personality type?

-- The 12 Spiritual Temperaments -- An analysis of the results from The Spiritual Temperament Test.
---

Dedicated to all those travelers
who share in the one journey
that can never be made alone



Copyright © 1995 - 2015 Regina Pickett Garson
All writings, graphics and scripts are copyright by the individual authors. Nothing on this site may be reproduced without permission of the individual authors.


No claims are made as to the reliability of any of the information provided or linked, sources often disagree. None of these pages are meant to be a replacement for professional help, but a resource that enables one to be a more intelligent consumer. You can learn a lot by becoming aware of different opinions. Don't be afraid to ask questions when it comes to your health, physical or emotional.

Regina Garson, Editor and Publisher
garson@hiwaay.net