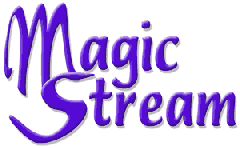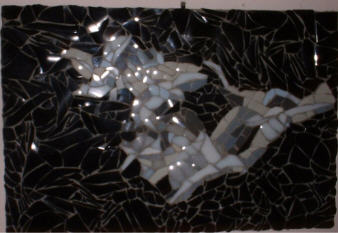 Fluttering Doves
William J. Wilson

William J. Wilson
William J. Wilson was raised in Memphis and graduated from Christian Brothers HS and Memphis State University. He moved to Huntsville, Alabama in 1959 to join the von Braun team as a computer jock and eventually became a database and computer security consultant with the Sperry Univac Corporation (later UNISYS), retiring in 1990 to pursue his lifelong interests in writing and making mosaic art.
An Internationally published poet, Wilson is described by those who know him as everything from a Renaissance Man, to the "Amazing Mr. Wilson," to a wild and crazy man, known affectionately as "Wild Bill," the bohemian redneck poet. Wilson was among the first 1000 programmers on planet earth. With a degree in Romance Languages, that was in no way in line with his early ambitions. He was recruited, when the results of some tests he took came to the attention of government officials. For years he worked in various capacities for the US government. Among other, he helped set up the electronic database for the Redstone Scientific Information Center (RSIC), the library at Redstone Arsenal. He was also an Internationally recognized cryptographer and inventor of several cryptographic systems.
Constantly recruited for higher level positions, he turned down many lucrative offers for what he describes as preferring to hang out with the hippies. An avid caver, he left his mark there too when he and a buddy set off in inner-tubes to map the waterways of Cathedral Caverns.
He did his job, although not always with the greatest of joy and continued to write poetry and practice his French and Spanish whenever the opportunity presented itself. Always a creative, there are stories of his artistic antics when ever there was a slow minute on the job. He has massive mobiles that delight children of all ages hanging at his local library.
One time a buddy came over with a bottle of pineapple wine, and they penned a song that was supposed to be a bit of left wing propaganda, and "The Battle Hymn of Lieutenant Calley" ended up on the Top 40 Charts.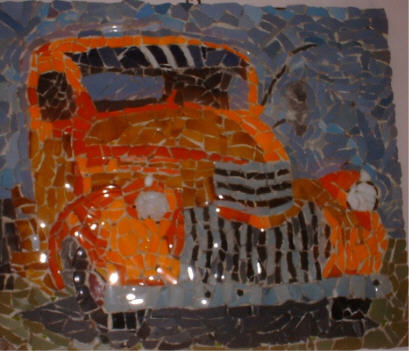 A favorite story he loved to tell was of a trip he made to Mexico to present a research paper he had written. I don't remember the topic, I'm guessing cryptography. Anyway, with a swarthy complexion and dark hair, as he was coming back through customs, with his coworkers, he alone was questioned as to his US citizenship. Always a lover of words and language, he replied in fluent Spanish that he needed a translator. Being as he didn't look very American to them, they continued to question him (in English). So, he figured as long as they were going to hassle him, he was going to hassle them back. And he continued to respond (in Spanish) to all their questions (in English) that he needed a translator. They finally got him a translator, and after he finally (in Spanish) convinced them that he was indeed a US citizen, they let him go. As the group was finally leaving, he turns around and waves good-bye. "Thank y'all," he said, and they all went on their way laughing. If you run into one of that group years later, they are still laughing about that one.
Along the same vein, there was an elderly Cajun couple who occasionally set-up at the Dog Day Flea Market in Ardmore. Anytime he saw them, they would all converse in Cajun French. They were absolutely convinced he was one of them, born and raised in Cajun country.
Another story Bill loved to tell was about coming home from the Army. His baby sister, Regis, was busy getting ready for the prom and yelled for him to get the door. So he opened the door for her prom date. It was Elvis Presley, who later became quite famous. A number of their friends from the old neighborhood had Elvis stories. At the time, he was playing at a strip mall near their house. Regis made him get a haircut, and she wasn't wonderfully happy about his dancing skills either. She was evidently a great inspiration though because the later stories about Elvis and his dancing skills are quite historic.
As soon as he retired, Bill went back to fueling his passions as a creative. His mosaic art is in a style known as Pique Assiette Mosaic. He makes his own tiles and shards out of found objects, namely cups, mugs and scavenged pieces of dinnerware. Rumor has it, he is the charmer who comes to dinner and disappears with your plate. When next you see it, it is part of his latest masterpiece. Such is the myth, although he'd think twice before turning down a good meal with good friends and good food, he scavenges junk stores and flea markets for his pallet.
The "Wizard's Chair," seen above right, was two years in the making. Widely acclaimed, among other, this award winning creation has been displayed at the Avampato Discovery Museum in Charleston, West Virginia and at the Fall Arts Festival on Monte Sano in Huntsville, Alabama.
Born October 8, 1929, William Joseph "Billy Joe" / "Bill" Wilson passed away July 13, 2013.
Rest in peace.
Regina Pickett Garson
---
You can read some of Bill's writing and hear his music online:

Poetry at Magic Stream

-- Old Bookem

-- The Middle Way

-- Winter Solstice

-- Runes for a Celtic Princess

---

Fiction at MC Journal: A Journal of Media and Culture

-- The Fall of Every Sparrow

---

For more about the life and work of Bill "Billy Joe" Wilson, see:
Deep Fried Kudzu: Bill Wilson, And Pique Assiette
Huntsville's Bill Wilson, 83, leaves mosaic legacy of science, art, poetry, music, wit -- by Kay Campbell
Birmingham News Obituary

---

And finally, Bill's hit song, "The Battle Hymn of Lieutenant Calley."
Although it was written as a left wing type of satire, it was picked up and taken as a celebration of the war.
This version leaves out the video pictures that somehow also helped to change the context of its writing.




---


Poetry, Art, Music and Fiction Copyright © William J. Wilson

Regina Garson, Magic Stream Editor and Publisher
garson@hiwaay.net